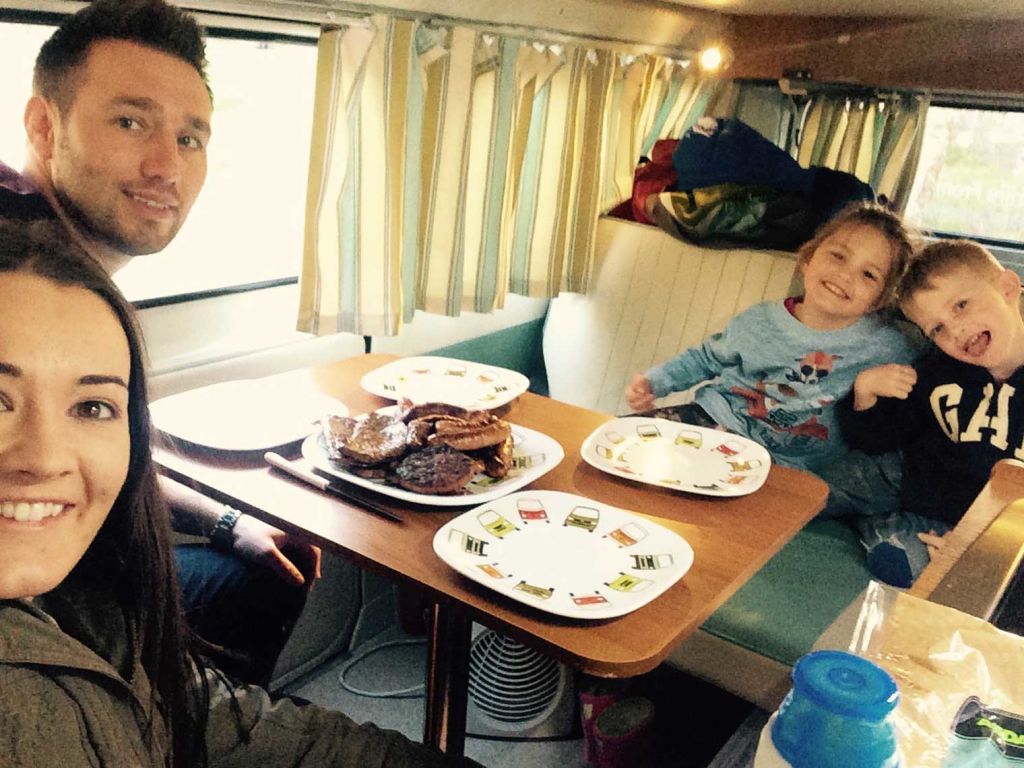 13th April 2015
Stacey, Bruce, Mia & Kai Take Hamish VW to Aviemore!
Friday 10 April – Sunday 12 April 2015
Friday

We came to collect Hamish and take him back to Aboyne to surprise Mia & Kai. They knew we were heading to Aviemore but didn't know what means of transport. We arrived in Aboyne after lunch and started to pack Hamish up of all our indoor and outdoor gear. Mia and Kai were so excited when they saw the camper. Beyond excited! We set off for Loch Morlich. We had a fab journey up. Mia and Kai were really enjoying the DVD.. and chatting away.
We arrived at Loch Morlich campsite and were welcomed by lovely staff. We chose a pitch and got settled down for the evening.
We enjoyed settling in, playing football, frisbee, cooking on our bbq and enjoying a glass of Prosecco while Mia and Kai built a house using broken sticks and bits from the woodland. We spent some time on the loch looking and taking in the beautiful scenery.
We went for a walk up to the ski slopes where the kids had great fun playing on the sledges. After an hour we went inside and enjoyed listening to "Riverman Rod" he was a solo player and was brilliant entertainment. We all enjoyed our evening. It was then bedtime where we all snuggled down Mia and Kai upstairs and ourselves down!
Saturday

Woke up lovely and early and enjoyed breakfast around the table. We drove into Aviemore for the day where we had some brunch and a lovely walk around the shops. It was a bit chilly but we were wrapped up warm. We headed back to the campsite where we relaxed and had yet another bbq and lots of fun and games.
That evening we went back up to the cafe for a few drinks and singing session which the kids loved and took part in. We highly recommend! It was a late night and we made it back to Hamish around 11pm. We set up the beds and we all cosied down watching a dvd and drinking tea.
Sunday
The morning came round so quickly and we were up early and ready for home. We woke up to snow.. It was pretty chilly but we were lovely and cosy inside. We left and headed for home.
We had a absolute blast in Hamish and can't wait to do it all over again!  Thank you DCC!
Stacey, Bruce, Mia & Kai – Aboyne, Aberdeenshire