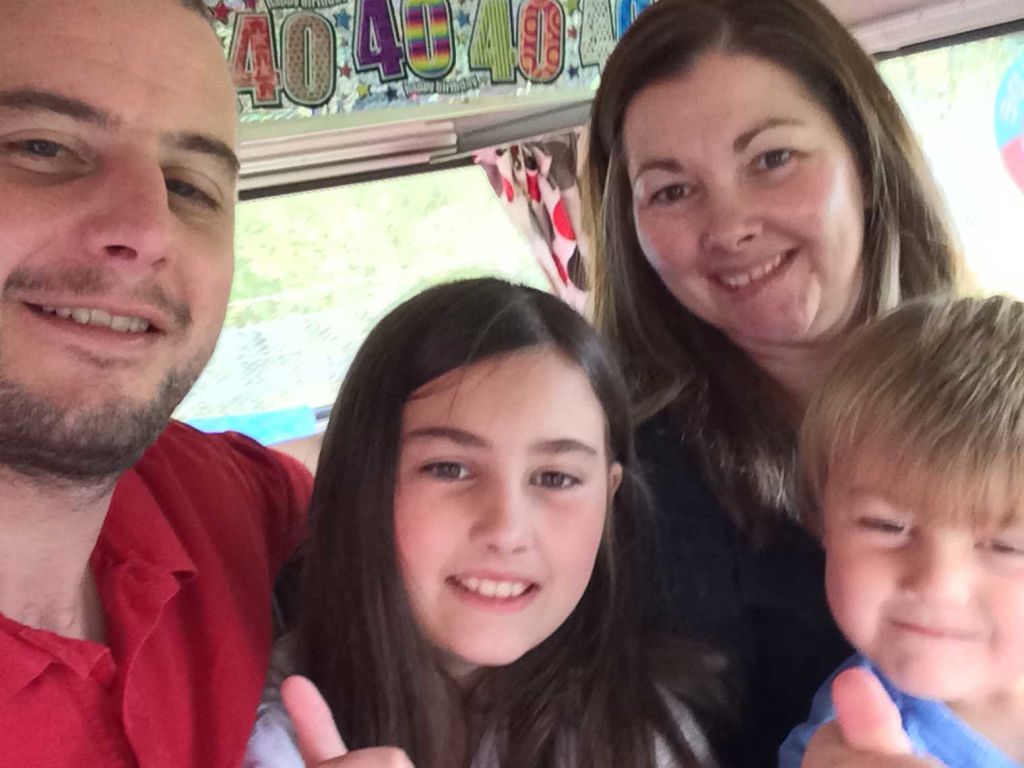 22nd October 2014
Pauline is Fantastic 40 in Fergus!
(Thursday 9 October 2014 – Tuesday 14 October 2014)
Jon and I were excited to pick up Fergus on Thursday morning to start our 5 day adventure to celebrate my 40th! Claire gave us the low down on Fergus – from the pop up roof through to where the luxury hamper was kept.  Off we went!
First stop was Dufftown for some lunch then onto Nairn for our first night. Beautiful sunny evening sitting in the awning with Prosecco in hand – this is the life!
 After a good night's sleep, we packed up and headed north – stopping at Fort George (spotted some dolphins!)
On to Dornoch beach for some lunch. Fergus got a lot of admirers!
Destination for night two was Dunbeath – dinner in the local pub then back to the van to watch a movie on the iPad.
Up early to drive to Durness (via Thurso and Tongue)
Weavers cafe near Tongue was a great spot to stop for lunch. Smoo Cave was amazing and well worth a visit. Around Loch Eribol, watched the surfers then for a hot chocolate at Cocoa Mountain. Jon even managed to sneak in a haircut from a friendly german guy in the Clearance Village. Sango Sands for the night, watching the football in Oasis – a bit windy and wet but locals very friendly.
Next day we headed down to Ullapool with a small diversion to Kinlochbervie and Loch Clash. Cooked up breakfast in the van overlooking some amazing scenery. Kylesku was a great wee spot to stop too.
Into Ullapool then down to Corrieschalloch Gorge,suspension bridge walk is a must not for the faint hearted!
Overnight in Ullapool and we even managed to see a film in the travelling cinema called the "Screen Machine!"
Next day we headed to visit friends in Sand – met three pigs and saw lots of stags. Headed to Beauly for yummy lunch and listened to the fiddles as there was a convention on.
Last night was spent in Huntly which was a great way to end the adventure before returning Fergus to Claire and Martin in the morning.
OVERALL IMPESSION
Fergus did so well with all the hills and weather conditions that Scotland can have in one day. He was a pleasure to drive, once you got hang of the steering which didn't take long at all.
Thanks again to Claire and Martin for letting us have Fergus. We will look forward to our next adventure in Hamish next year!
Customer service is FABULOUS and the vans are OUTSTANDING!
HAPPY 40TH BIRTHDAY TO ME!!
Jon & Pauline Robertson