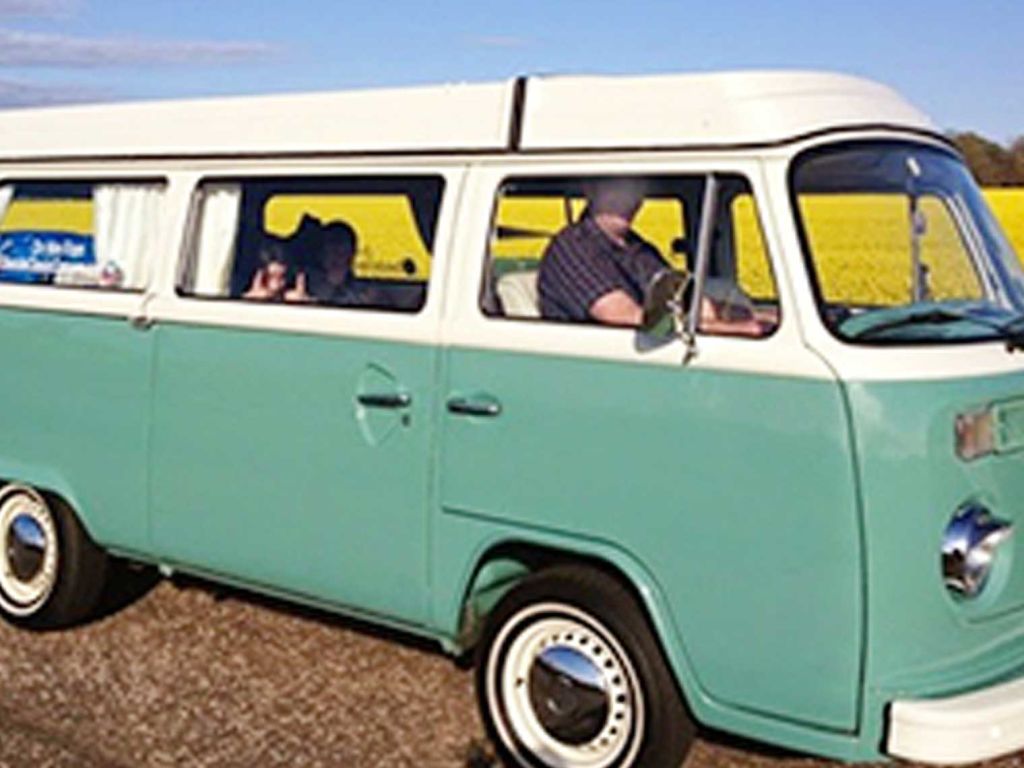 17th May 2014
Kelpies Adventure!
A weekend in Hamish the VW Camper Van
(Friday 2 May – Monday 5 May 2014)
Sometimes you hear about a business idea and you know straight away that it's going to be a success. Towards the end of last year I was at a workshop at Aberdeen Business Gateway. To kick things off we went round the room introducing ourselves and our businesses. As soon as I heard about Deeside Classic Campers I was smitten. Show quality, stunningly restored and beautifully appointed VW Camper Vans for hire in Finzean, Aberdeenshire. How soon could I go on a road trip? As it turned out we had to wait a wee while as Hamish was still undergoing his six million dollar man rebuild.
Fast forward a few months to the May bank holiday weekend and myself, boy and girl set off to collect Hamish from his home in Royal Deeside.  As we followed the sat nav directions there were screams from the back seat when they spotted him in the driveway.  The sun was shining and he looked absolutely immaculate.  Claire and Martin greeted us and we got a full run down of how to drive him, pop up his top and a veritable grand tour of everything else we needed to know.  He certainly takes a wee bit of getting used to in terms of driving.  The steering wheel is huge, he's not keen on tight corners, gear changes need to be slow and deliberate and he's a tortoise as opposed to a hare.  However he's been updated with power steering which makes a huge difference and you very soon get used to all his little quirks. 
To send us on our way was a luxury hamper of goodies from Finzean Estate Farm Shop. Sausages, bacon, homemade bread, cake, eggs, tea, coffee, butter, cheese, marmalade, oatcakes and a bottle of wine.
Our first night was spent at Tayview Caravan Park in Monifieth. Errecting the awning was left to the boys and was much trickier than the instruction video made it look. However once up it provided valuable additional space. Much argument over who would sleep where. Boy and girl won the toss and chose upstairs. Both beds were spacious, cosy and comfy. Electric hook up, three pin plug points and a wee fan heater meant you could have a boost of heat if needed.
Two gas rings meant it had to be a cooked breakfast and a chance to sample some of the goodies from our foodie hamper. Time for two of my favourite things in the camper to come in to use. Collapsible kettle and washing up bowl. These are genius!
After breakfast we were on the road again heading to the new NTS Battle of Bannockburn Visitor Centre. Arriving half an hour before our Battle Room experience we lunched in the car park.  All our meals and snacks throughout the whole weekend were eaten in Hamish.  Partly due to the novelty factor but also because it was so convenient to be able to do so. It was a fantastic money saver too.
Our Saturday night campsite was Mains Farm Wigwams where Hamish was outstanding in his field. After erecting the awning (in a considerably shorter time) we took a wander up into the village of Thornhill and enjoyed a couple of drinks at the fantastically friendly Lion & Unicorn pub before returning to light a BBQ. We were just finishing our final sausages when the heavens opened so we retired for the night to watch Frozen on the ceiling mounted DVD player. Do you wanna build a snowman?
Sunday took us to Scotland's newest visitor attraction. The Kelpies. We were absolutely blown away by these amazing creatures. We did the tour and got to go inside the downward looking Kelpie. At 30m high they are a fantastically imposing and mesmorising work of art. Our final campsite was Witches Craig tucked below the picturesque Ochil Hills and and overlooked by the historic Wallace Monument. Very close to Bramble Bield where we went Big Fat Gypsy Glamping. Our final cooked breakfast in Hamish was a whopper. Using up everything left in the fridge. Time to head back to Deeside and with a little encouragement "come on Hamish, you can do it" we made it over the Cairn O'Mount.
Overall Review
Will sign off with the 5* review that I left on the Deeside Classic Campers' Facebook Page.
It sums up our weekend perfectly!
We spent the May weekend with Hamish and absolutely loved the whole VW Camper experience from start to finish (didn't want to give him back!) I really can't recommend it enough. We had an amazing time!
Hamish was fantastically well equipped with everything you could possibly need. The awning was a very useful addition but even without it he's surprisingly spacious. Beds are cosy and comfy both upstairs and downstairs. He's a wee bit quirky to drive but you soon get used to him. He can't be rushed but you soon discover that Hamish speed is speedy enough.
If anyone fancies doing it – book it – you won't be disappointed. Expect many envious glances, cheery waves and happy honks along the way. Can't wait to do it all over again in Fergus!