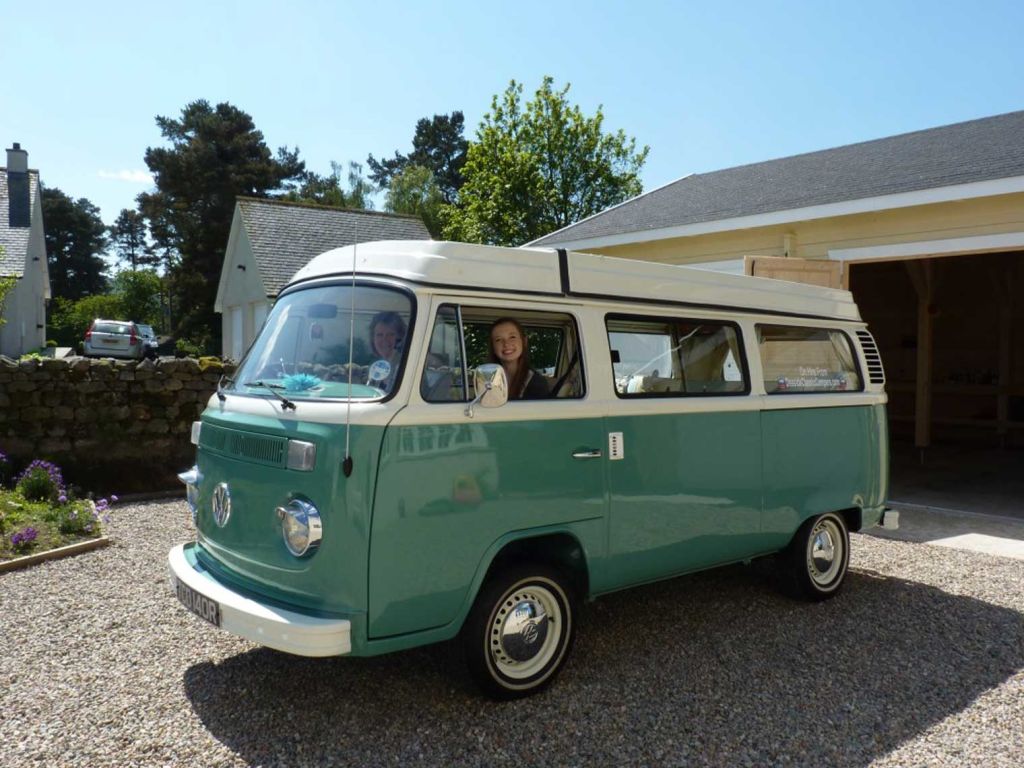 12th June 2014
Hebridean Adventure!
(Friday 30 May 2014 – Monday 2 June 2014)
So it begins, at DEESIDE CLASSIC CAMPERS, Finzean!
It was a dream come true to be able to take Hamish off on tour for the weekend.  He is a very stylish camper, beautiful and immaculate inside and out and has his own unique personality when it comes to driving.  He likes a slow and steady approach but once you get used to his quirky character he is so much fun to drive.  Everything looks better from behind the wheel of a classic vee dub camper, even roads we've driven on before were more interesting and as a passenger you get surround views as well as surround sound from the stereo system.
We had mapped out a route before we left but took a detour off the A96 to avoid a traffic hold up near Inverurie taking an alternate route along the whisky trail via The Cabrach, Dufftown on to Elgin were we drove through the golden arches for a  meal and visited family to show off Hamish and have a cup of tea before driving on to Inverness and Ardmair Campsite, Ullapool. After showers and a quick breakfast we headed into Ullapool to catch the Calmac Ferry to Stornoway (2-1/2 hour trip) it was a lovely clear and calm crossing.
After disembarking we met up with friends at the Callanish Standing stones.  Then we drove to the west coast to Uig Sands, a lovely stretch of sandy shore and the site where the Lewis Chessmen were found.  There is a giant wooden carved replica of one there: the originals are now kept in museums in Edinburgh and London.
Round the coast to a secluded bay – perfect pitch for the night!
The beaches around here are beautiful white sand from shells crushed by the Atlantic waves pounding on the shore. We went for a coastal walk to admire the views and watched gannets diving – reckon they came from St. Kilda. Then back to Hamish to enjoy Fajitas for dinner overlooking the beautiful white sandy bay!
Huge breakfast before continuing on our Hebridean road trip south through Lewis and down to Harris in the rain to beautiful golden sands of Luskentyre beach for quesadillas.  Tarbert to Uig – Over the sea to Skye.
Stopped off at Newtonmore for pancakes cooked in Hamish's well equipped kitchen with a spectacular view!
OVERALL REVIEW
We have wanted to hire a classic camper for years. As soon as we saw Deeside Classic Campers in the area I booked! We loved the whole experience, the driving, the view of scenery, and having a lovely interior and facilities. It's been great having Hamish take us on this wild adventure. We enjoyed living life in the slow lane for the weekend at least! Driving back from Finzean in my little i10 seemed really sporty and fast! Thank you so much for a fantastic weekend.  We thoroughly enjoyed it and hope to be back. It would be hard to improve your service, perfect!