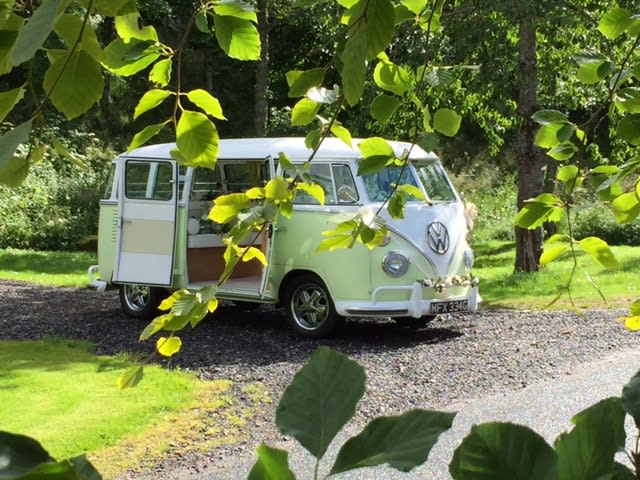 27th October 2016
ARCHIE VW our Brand New Splitscreen Wedding Bus!
New for Jan 2017
ARCHIE VW our brand new 1960s split-screen wedding bus was restored by VW Downunder and Madmatz VW who worked closely together putting the finishing touches to this special camper with a full body restoration and paintwork, as well as a gorgeous bespoke interior, just as they did for ANGUS VW!
ARCHIE VW was launched at the Your Wedding Exhibition at the AECC on the weekend of 21 and 22 January 2017, alongside ANGUS VW wedding bus.
We ran a "Name our Campervan" competition on our Facebook Page and hundreds of fabulous names were posted! The winner was Colleen Rayne (one of our VW brides!) who received a fantastic camper cushion with her initials for her prize! Well done to you!
ARCHIE VW initially came to us with day-glow yellow/green colours, not very suitable for a romantic wedding bus for your special day! He was completely transformed to a gorgeous spring pale green exterior as you can see, perfect for a wedding, with the most beautiful hand carpentry interior complete with curtains, cushions and bunting … not forgetting of course Champers on board!
To book ARCHIE VW for your special day either get in touch via our website with your wedding requirements, or drop us an e-mail to Claire at "office@deesideclassiccampers.com" and we would be delighted to help you arrive and make an entrance in true style to your wedding!