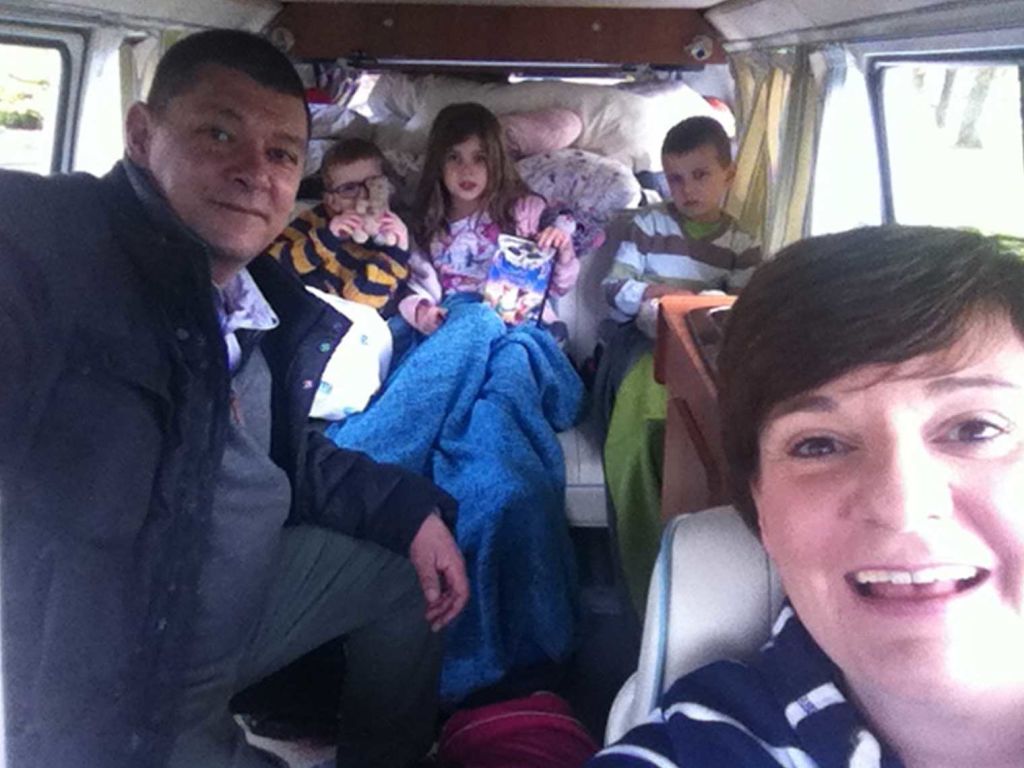 26th October 2015
Marie Family off to Kelpies!
Sent by E-mail by Fiona Marie:
"Mark and the boys picked up Hamish VW on Friday morning while Erin and I got our stuff together.  It was then off to Stirling to stay at Witches Craig campsite, near Stirling which was lovely with great views.
We got the camper all set up and settled in for the night, it was a bit like musical beds though with three children upstairs and two adults downstairs at the start of the night, but then one adult and one child upstairs and one adult, two children downstairs by morning!!
The van was very comfortable and draught free all night though. In the morning, the children and myself went off for a shower, while Mark sorted out the van in peace. It started to drizzle in the morning so the fan heater was very useful while we were all eating our holiday breakfast of Coco Pops!!
Off then to the Kelpies where Hamish was admired by all and the weather was wild so we had a lovely time in the camper with a cup of tea and a slice of cake courtesy of our hamper!  We were quite smug all cosy and warm while everyone was braving the weather!
Over then to the beautiful Elie Holiday park in Fife which was just great and very safe. It was good to set Hamish up in two minutes and get the children off to the play park and beach while we got everything ready.
Tea was in the club house followed by a children's disco that night and then a very good night sleep by all, even though the wind was blowing all around us, Hamish kept us dry and cosy. Breakfast and then a windy beach walk in the morning followed by a drive home through Glen Shee.  
All of us really enjoyed our trip in Hamish, it was a lovely experience that I would recommend to all. As a very reluctant camper, I would recommend a campervan to others as you have the feeling of camping and freedom but also those all important home comforts (electricity and a stove to make tea!)  There is surprisingly more room than you first think and so many clever storage solutions that it really doesn't feel too cramped at all.
Thanks to all at Deeside Classic Campers for a lovely weekend!
Thanks again
Fiona"