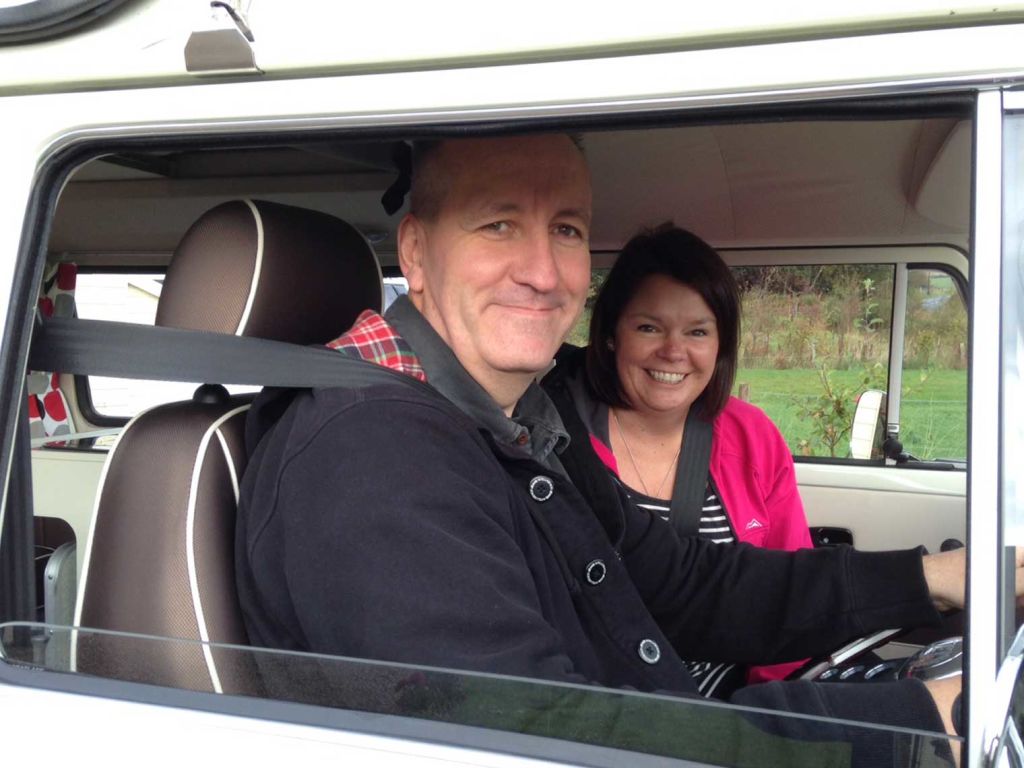 20th October 2014
Craig is Fabulous 40 in Fergus!
Friday 26 September 2014 – Monday 29 September 2014
(AVIEMORE, LOCH NESS, TARLAND)
From the moment we met the Deeside Classic Camper team at a Classic Car Show earlier in the year, we just knew we had to have a trip in Fergus. With Craig's 40th birthday approaching this was the perfect present for the man who loves vintage VW's!
So the weekend for our Fergus trip was here and the whole family were extremely excited. Fergus was ready and waiting for us when we arrived at DCC and we couldn't wait to head off. Unfortunately for Craig (but lucky for me!!) he wasn't able to drive when we picked up Fergus due to a wee injury on his eye so off we went heading for Aviemore. It took a few miles to get used to driving Fergus but I soon got the hang of it.
We arrived at Aviemore in the evening and hooked up for the night, with the kids being super excited about sleeping in the pop up roof. They loved having their own space and slept perfectly the whole time we were away.
 In the morning it was bacon rolls for Craig and I, and alfresco dining for the kids – this is the life!!
Then off we set for Loch Ness Shores. The journey took us through some beautiful scenery and Fergus managed the country roads with ease, and we got quite a few waves from other motorists who were admiring Fergus' cool looks!
Loch Ness Shores is a beautiful site and we found a great spot with the banks of Loch Ness right behind our pitch. We took Fergus for a spin all the way round Loch Ness and stopped off at the Loch Ness Visitor Centre to see if we could find Nessie.
That night we put the awning up and this was definitely a bonus, we enjoyed eating our BBQ food in the comfort of Fergus and it wasn't long before we were all tucked up for another good nights sleep.
The next morning was Craig's 40th birthday! Myself and the kids decked out Fergus with a few banners and we all enjoyed a cooked breakfast. The kids played in the park at the site whilst we loaded Fergus up. Off we went on our travels again, this time heading to Tarland. Fergus was a tropper managing the Lecht route with ease and the kids shouting encouragement from the back "Come on Fergus"!!
When we got to Tarland as it was Craig's birthday, it was a takeaway for dinner and a delicious chocolate birthday cake for pudding and lovely bubbles to wash it all down with (such a nice touch from DCC to supply the cake and Prosecco)! A few games of happy families and it was time for our last sleep in Fergus.
OVERALL IMPRESSION
Needless to say we were all sad to wave goodbye to Fergus and can't wait for another DCC adventure some time soon!
Thanks Claire and Martin for a FIRST CLASS SERVICE and you are DOING A FANTASTIC JOB!
The Johnstone Family
(Friday 26 September 2014 – Monday 29 September 2014)