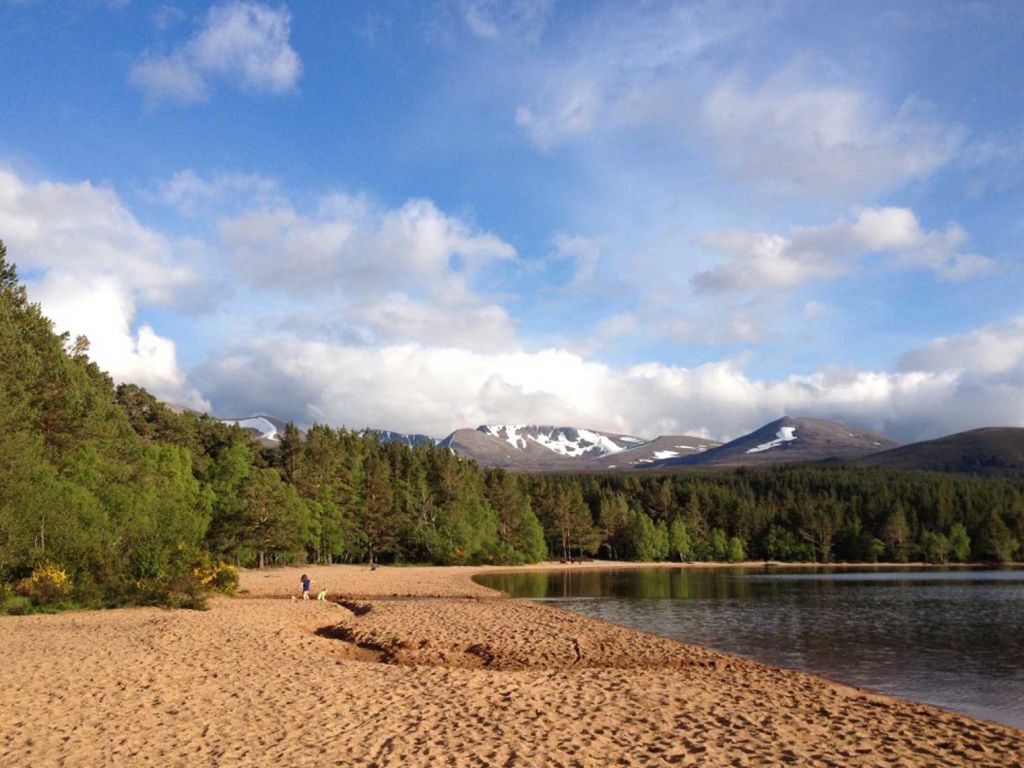 29th May 2014
New to Campervan Caper!
(Friday 23 May – Monday 26 May 2014)
We have just returned from a fantastic weekend with Hamish. We collected him mid-afternoon on Friday and after a much needed thorough explanation of how he works (we've never been in a campervan before!) we were off, huge smiles and very excited! Claire had warned us that Hamish takes a little getting used to, but a few miles down the road we had cracked it and started to make our way over the Lecht to Aviemore. Our girls had an absolute ball sitting way in the back, giggling and laughing and as we were up front we couldn't hear a word they were saying and actually got a chance to have a proper chat, unexpected bonus!  As we drove through Ballater people were looking and smiling at us, it's like being a bit of a celebrity when you're driving him and you can't help but smile back.
We made it to Aviemore and by then were all ready to stretch our legs so we parked up, hopped out and went for dinner at Roos Leap, an Aussie restaurant by the train station. Afterwards it was back into Hamish and off to Glenmore Campsite to find our spot for the weekend. Claire had very kindly recommended and booked this site for us and it was the perfect spot for first time campers. The staff already knew Hamish very well and directed us to a great spot, nice and close to the beach, and more importantly with small children, the toilets!  This is an absolutely beautiful campsite it has a stunning beach, nestled in amongst the still snowy hills and you can sit here and gaze at the sun going down over the loch whilst the kids splash in the water, it was absolutely magical. We found the sleeping arrangements to be surprisingly comfortable and cosy. The girls loved being up top and slept really well.
In the morning we fired up the stove and made an amazing breakfast of sausages, bacon and scrambled eggs washed down with freshly brewed coffee. We added the option of the hamper from Finzean Farm Shop and I'm so glad we did, it was absolutely delicious and such a bonus to open the fridge and find a bottle of already chilled Prosecco in there!  We spent the rest of the day reading and relaxing whilst the girls went around the campsite making friends and playing football. At night it was back to the beach for some snacks, a bottle of wine and a play in the loch. The pictures should speak for themselves, it was amazing and a lot of fun.
On Sunday we were sad to be heading home but took a nice leisurely drive back home stopping in Aviemore, Tomintoul, Ballater and Aboyne.
OVERALL REVIEW
I just can't rave about Deeside Classic Campervans enough, they are so professional, helpful and thorough in their approach. Nothing is left to chance and everything you could possibly need is provided with the campervan, hop in and off you go. I really hope we get another chance to take Hamish away and maybe for longer next time.
Thank you so much for a wonderful and easy weekend, The Gauld Gang (Converted to Camping for life thanks to Hamish!)