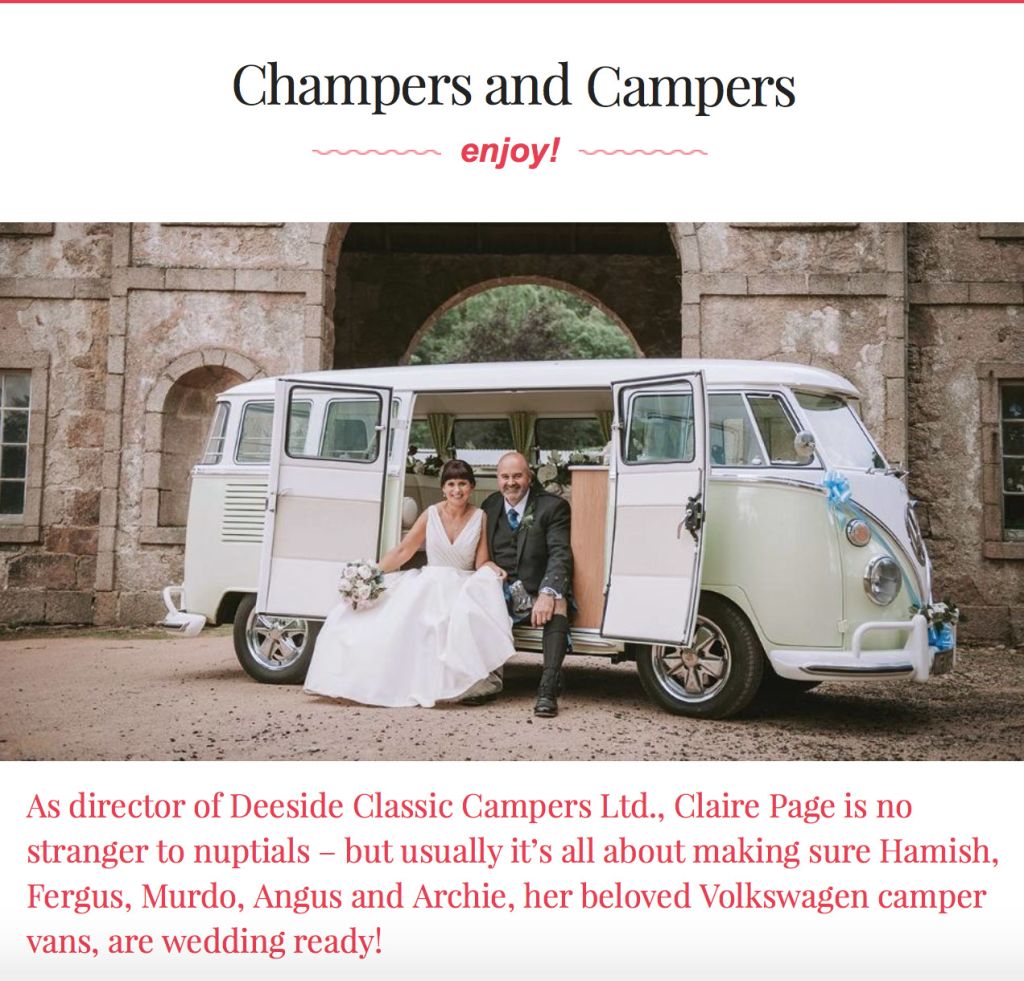 3rd October 2017
Champers & Classic Campers! Our Wedding (Grampian Wedding Directory)
Martin and I are delighted to have our wedding of June 2017 featured in the Grampian Wedding Directory!  You can read all about our story and more photographs here! Claire & Martin – Grampian Wedding Directory.
We had the most wonderful wedding day! Filled with fun, laughter, emotion, and love!  Martin and his Best Man (his Dad) enjoyed their drive to our ceremony venue at Finzean House in ANGUS VW, whilst my daughters Emily, Martha and my Matron of Honour Karen had their wee trundle in ARCHIE VW before our Chauffeur returned to collect myself and my Mum. I can now personally appreciate how special my brides feel on their wedding day in one of my own VW classic wedding campers!
Following our ceremony in the gardens of Finzean House, Martin and I went for our "Champer Drive" in the grounds of Finzean House Estate.  It was such a lovely time for just the two of us to have some intimate photographs taken by our fantastic photographers Russell & Laura from Aboyne Photographics  Happy Campers – Aboyne Photographics, before returning us to our reception with family and friends to continue with our celebrations.
It was very competitive on the croquet lawn, as well as the dance floor!
HUGE THANK YOU and shout out to our fantastic fellow wedding suppliers, who helped to make our special day so fabulous! The Farquharson family who opened their private home to us and to the superb staff at Finzean House and Finzean Farm Shop for all of their hard work. Aboyne Photographics, Jill at Hays Flowers, Cheryl McWilliam, Elaine Stables, Love Laura Lane, Cakes by Kirsty, Mark Stuart Wedding Films, Jive Candy, Alison at Northeast Events, Rhian at Babe In The Wood Media, MFGF Events, & Deesidedly Tasty Company.
It was the most amazing day that we shall never forget!