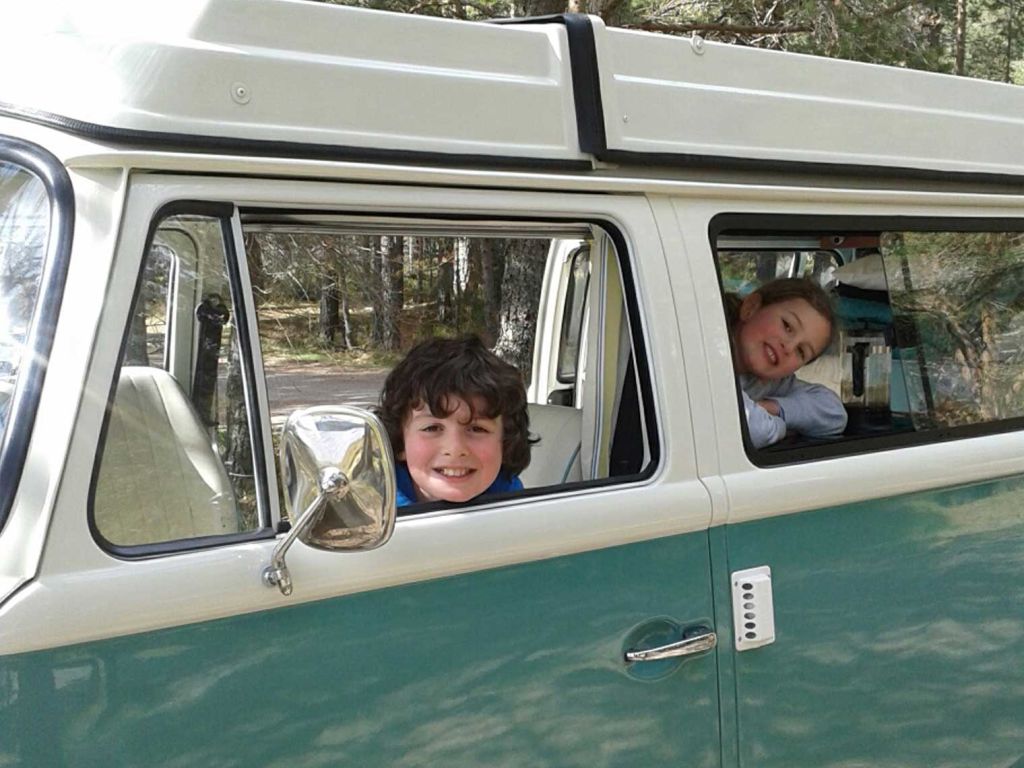 2nd May 2014
A Weekend in Hamish
The weekend started by rocking up to Finzean, meeting the welcoming DCC crew and getting shown round the stunning van and his contents. Having owned an air cooled van a couple of decades ago, we were excited to re-live the VW camper experience, ours though was not a bay window so we were excited to get going. We were shown all the mod cons and reminded that driving technology from the 70's is nothing like driving modern cars. That's part of the charm of these vans, making it fun and all about the experience.
We were warned to expect the steering to be a bit different from what we were used to and so it was. When sitting in front of the front wheels and steering effectively from the front bumper, it takes a good ten miles to get used to it. By the end of the weekend though we wondered why it had seemed so different for those first few miles.
Friday afternoon/evening
Over the Slug to Stonehaven harbour.  On to the old coast road heading south.  First stop Gourdon for the best fish and chips ever.
Parked up for some 'wild' camping experience somewhere in Fife.  Not sure exactly where because we were on an adventure, going where the small roads took us!  We 'popped' the van top and enjoyed the headroom while brewing a cup of tea. Very spacious sleeping area 'upstairs', plenty of room for two adults but as it was very windy we decided to sleep 'downstairs' on the roomy rock'n'roll (not a comment on the windy conditions) bed. Couldn't believe how much space we still had even with the bed fully set up.  The swivelling front seat is great!
Saturday
Woke early after a great sleep, breakfasted then set off on Part 2 of our adventure.
Took a meandering route to Culross, a very pretty Fife village on the shores of the Firth of Forth. The weather was pretty cold and blustery, lots of white horses in the firth, but we wrapped up and headed out for a brisk walk around the village. It was great to get back to the warmth and comfort of Hamish for a cup of coffee.  We noticed a lovely little house painted in Hamish colours, couldn't resist taking a photo!
Then it was off across the Forth Bridge to South Queensferry for some great views of the two (soon to be 3) bridges. Very pretty little town and another great photo opportunity with the iconic rail bridge.
Back across the bridge to North Queensferry, lunched on the shores of the firth in Aberdour, stopped in Methil to look at the huge jacket (oil platform) fabrication and then meandered along the Fife coastal route to Elie camp site.
Now feeling very relaxed. Parked the van, popped the lid, glass of white, beautifully chilled from the fridge, and then a walk along the coastal path into the village of Elie. Headed for the pub on the shore and sat outside watching the beginnings of a beautiful sunset.  Back along the coastal path to the mod cons of our van.  Hamish is equipped with everything you might need from a bottle opener to a selection of pots and pans.  We cooked a lovely tea using the contents of the hamper.  Being on a campsite we took full advantage of the electric hook up and settled down to watch a movie! Yes Hamish has a DVD player! Again it was a bit too windy to sleep upstairs.
Sunday
Woke early, feeling refreshed and keen to get going on Part 3, but of course had to try the campsite facilities first.  Very nice indeed, clean and lovely hot shower (no tokens or any of that daft stuff, as much hot water as you could want!)
Set off stopping briefly in Elie. There's a great deli on the Main Street which is well worth a visit.  After buying some goodies for lunch we set off again gently touring through some of the prettiest villages in Fife.  In Anstruther we stopped to have a look at the beautifully restored Fyfie fishing boat, Reaper, moored in the harbour.  Had a look inside St Finans cave in Pittenweem, got the key from the excellent coffee and chocolate shop on the Main Street.  Their chocespresso was gorgeous! Crail is very pretty and worth a wander around.
Back on the road heading north and towards home but one more stop was required.  A late lunch and a read of the weekend paper (in the van of course) at the observatory in Kirriemuir, fantastic views of the Angus Glens.
Hamish was still up for an adventure so we decided to head back to Finzean via Edzel, Fettercairn and over the Cairn o' Mount road, lovely!
Overall Review
In a van like Hamish you quickly get used to attention. People's faces light up as you drive along, children point, people you don't know wave at you and when you park, folk just can't resist crossing the street to "ooh and ahh!"  The other thing you get used to is smiling. Driving a classic like Hamish is great fun.  Camping in such a luxuriously converted classic is fantastic.
Would we recommend a trip in Hamish? Yes we definitely would, but first we'll try out Fergus when he arrives!
Last but not least a big thank you to the DCC crew who looked after us so well from start to finish. They were very welcoming, gave an excellent introduction to Hamish, provided a lovely hamper of locally produced goodies, and to our great surprise a clean car on our return!