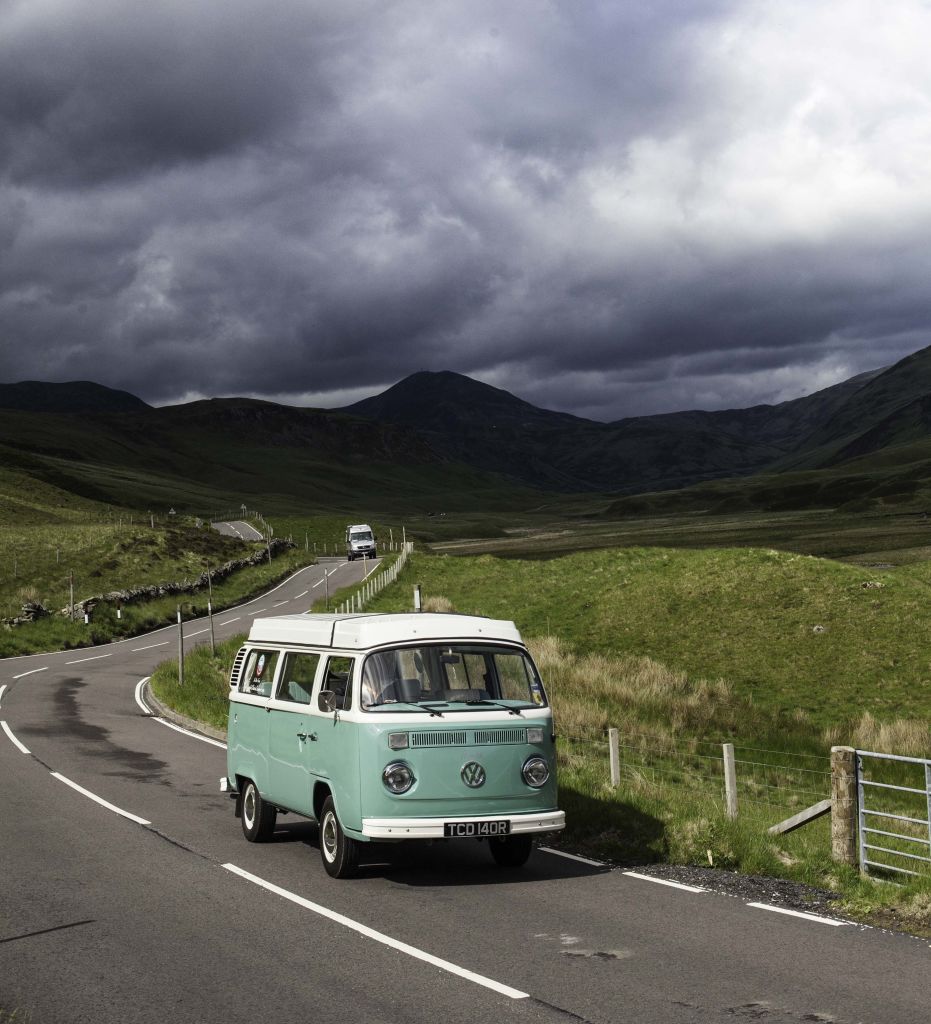 25th October 2017
10 Reasons Why You Should Hire a Campervan!
Looking for a unique holiday experience that you will never forget? Then rent one of our VW campervans for fun, frolics, adventure, touring and exploring the beautiful lochs/glens/islands/crystal turquoise sea and majestic mountains which Scotland has to offer, as well as spending quality time with the ones you love.  Do you dream of sleeping under the stars, listening to the waves of the sea from your camping pitch by the beach, waking up to the dawn and seeing stags on mountains, with your kettle boiling merrily on the stove? Grab the camper keys and the open road awaits you!
Here are 10 reasons why you need to have a Volkswagen campervan adventure in Scotland:
Be Free!
Having a campervan gives you the freedom to go where you please. You can chase the good weather. You don't have to camp on a campsite. If you are feeling a little adventurous, go wild camping instead! Pick that perfect camping pitch overlooking that perfect scenery. If you like your home comforts a campsite can be a great base; meeting new friends, electric hook up,  and of course a hot shower! Stop off wherever takes your fancy for that brew-up, get the bacon butties on the go, sit outside on your deck chair and enjoy the scenery. A campervan holiday is all about the journey and experience from start to finish. The best part is, the choice is yours!
Have that Adventure!
This is  your campervan hire holiday, there are no rules.  You decide where the mood takes you, or we would be delighted to plan a route for you and recommend fantastic campsites, just ask!  We are members of the Camping & Caravanning Club and pass on our campsite discounts to you! The world is your oyster in a campervan.  From music festivals, beach holidays, white water rafting, mountain biking, walking/hiking, the choice is yours.
Get Back to Nature
We are not short of beautiful scenery in Scotland, whether it is coastal, heather clad mountains, lochs or rivers, Scotland has something to offer for everyone. Head off the beaten track to secluded and quieter campsites located in woodland Camping in the Forest Scotland. Why not take your mountain bike, or hire one of ours with one of our bike racks and explore the lovely cycle trails, getting back to nature on two wheels. You can choose your own route or have a guide to show you the thrills and spills of mountain biking, or have a more sedate day out. Grip Cycle Tours. If you decide to find that perfect wild camping pitch, please remember to tidy up after yourself and leave no trace.
Home from Home
Our campers have every comfort you can possibly need for your VW adventure including a gas stove, fridge (somewhere to keep your beers/wine chilling) as well as your food for your trip. There is a sink with running water (much better than a tent!) There are pots/pans, plates/bowls/cups, cutlery, cooking utensils, an outdoor table and chairs, camping heaters to keep you cosy, and electric hook up.  Our on-board water containers can be easily re-filled at a campsite. Should you wish that extra undercover space, why not hire our freestanding airframe awning which attaches to the side of the camper. It is a great space for  sitting with your outdoor table and chairs, sipping something chilled and also good storage for your wellies/walking boots, or to hang up your waterproofs if the weather is changeable.
Eat local Produce, Restaurants/Cafes
With full self catering facilities and wheels to get you onto the open road, you can enjoy some amazing meals either prepared by yourself or stop off and sample what the local region has to offer.  As well as your route, we can also plan where the best places are to stop off to stretch the legs and to quench that thirst, and to point you towards those hidden restaurant gems, whether it be freshly caught from the sea that very day, to a gastro pub. Why not visit a Farmers' Market, local bakery or deli? Stock up on your essentials from a local supermarket or Farm Shop with local reared meat, sausages, and regional cheeses.  We can provide your first shop for you, a luxury hamper, packed with local gourmet delicacies from our local Farm Shop to get your campervan adventure off with a great start!  Cooking is great fun in campervans and quick-cooking – especially with only two rings – can be inventive.  We pack our camper vans with a fantastic "Camper Cook Book" from our friend "The Campervan Chef", Martin Dorey.  Think pasta, bolognese, couscous, quiche, and chilli matched with ingredients such as pesto, chorizo and herbs to add some extra zing.  All that fresh air will certainly give you an appetite and food tastes so much better outdoors, so get those local delicacies on the barbeque or small stove and crack open a beer or bottle of wine.  Even better, sizzling bacon in the morning with the kettle boiling as the run rises, pure campervan heaven!
See the sights
Forget hotels, you can stay in/near Major cities/attractions with your own transport at a fraction of the cost.  There are many camping and campervan sites around Scotland close to the major cities of Aberdeen, Glasgow and Edinburgh and their top attractions. Check out cool camping sites or allow us to plan your route for you.  How about the "Castle Trail" or the "Malt Whisky Trail".  Go on the search for "Nessie" the infamous Loch Ness Monster. For quieter and beautiful campsites off the beaten track, for serene loch-side pitches to rugged cliff-top spots which Scotland has to offer, have a look at these tranquil amazing campsites.
De-Stress
Collect your camper from our premises and we will point you in the right direction of where you want to head off. You are welcome to leave your vehicle with us, or we can arrange your transfer to us from either Aberdeen Airport or Train Station.  You will be given a full hand-over to familiarise yourself with your new VW pal for your road trip.  The driving experience is a little different to a modern car, especially in our vintage campers and they need to be treated nice and gently. The top speed for our classic heroes is 50 mph, perfect pootling speed! All our campers come with manual gearboxes, power steering and up-graded brakes, for your driving comfort. So it's only left for us to wish you a fab trip and for you to relax, enjoy, take it slow, and enjoy the views. We promise you will return very chilled out!
You're a celeb!
There is nothing else which attracts attention more than an iconic VW camper! We warn you that everyone will wave at you, want their photo taken with the camper, and want to have a sneak peek inside! Your face will hurt from smiling and laughing. Did you know that Jamie Oliver, Richard Hammond, Kate Moss, Tom Cruise and Sir Paul McCartney are all lovers of campervan holidays? Enjoy being famous, if only for a short while!
Save money
To rent one of our campers which sleeps 4/5 people for 4 days costs as little as £390, much cheaper than a hotel, B&B, or cottage self catering accommodation and having to rent a car. It means you can spend more on your holiday luxuries.
Create memories
You'll never forget the year you hired a classic camper and toured the North Coast 500, or when you went back to the era of the 80's and rocked out at The Rewind 80s Music Festival, or at the Tartan Heart Belladrum Music Festival.  Paddled in the sea and dug sand castles with the kids at Scotlands Best Beaches or visited one of the beautiful Western Isles of Lewis, Harris, Skye or Balamory the famous wee town of the Isle of Mull (Tobermory) with it's beautiful coloured houses by the sea.  Have a magical train journey on the "Harry Potter Train" the Jacobite Steam Train from Fort William to Mallaig. Whether you pick the most remote camping spot, visit a large city, or watch the sun go down behind the waves or mountains, go on, have the holiday you will treasure forever on a campervan hire holiday!
We look forward to meeting you!